Workshops
Click here for a printable Festival Schedule (includes workshop descriptions) - subject to change.

(Note we won't be posting the 2019 schedule for a few months. Right now the link will bring up the 2018 schedule as an example.)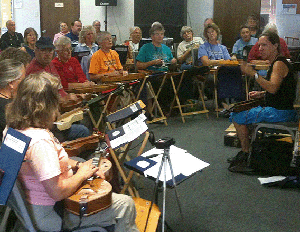 Mountain Dulcimer Workshop
We know an effective way to get motivated and learn is to have the chance for quality instruction. We've sought out great instructors to help you grow in your music pursuits. While we'll always put an emphasis on dulcimer instruction, we're excited to offer other instrument classes to expand your choices. You can take most classes even if you don't have an instrument (see Loaner Instruments below, Dulcimer Rentals, and the workshop descriptions themselves). Here's some examples from past years.


Mountain Dulcimer
Hammered Dulcimer
Celtic Harp
Bowed Psaltery
Autoharp
Penny Whistle
Harmonica
Ukulele
Guitar
Banjo
Fiddle
Mandolin

Percussion Instruments

Bodhrán (Irish frame drum)


We've also offered classes that are not instrument specific, or don't need instruments. Offerings depend on who we're bringing out and what they would like to present. Here are some examples from past years.


How to Learn a Tune
Performance Anxiety
Jewish Folk Melodies
Singing Celtic Tunes
Appalachian Songs of Jean Ritchie
Learning to Play by Ear
Palliative Music
Easy English for Mixed Instruments
Joy of Singing in Harmony
Songwriting

Clogging


Check the schedule to see this year's offerings.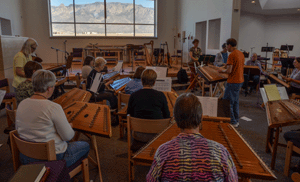 Hammered Dulcimer Workshop
In the schedule, suggested skill level for each workshop precedes the workshop title (Click here for Skill Level FAQs). As a registered participant, you can attend any workshop regardless of skill level. You are also welcome to take any workshop, regardless of what instrument you normally play. Try something new! Take advantage of all the offerings. This is your festival. If you're on overload, you're also welcome to skip workshops any time and just socialize in the gathering area.


A La Carte Workshops
Unregistered guests and walk-ins may take a limited nunmber of workshops (designated on schedule in red with star) by obtaining workshop passes from the festival registration desk ($15 per workshop). Walk-ins may also take regular workshops a la carte at $40 each.
If you don't want to register for the festival, but are interested in taking a "never-played-before" dulcimer class just to see what it's like, we'd like to help. If you play one dulcimer type (mountain or hammered), and are curious about the other type, we want to give you a chance to see what the other instrument is about. If you want to try out an entirely different folk instrument, we want to give you that opportunity too.
We will try to make no-cost dulcimer loaners available for:

Registered dulcimer players that want to take the "never-played-before" class of the other dulcimer type.
Unregistered guests and walk-ins who pay for the mountain and/or hammered dulcimer "never-played-before" classes.



Registered participants, unregistered guests and walk-ins (who've paid for a workshop) can take any of the non-dulcimer classes. We will have no-cost loaners available for many of these classes (see workshop descriptions).


Folk musicians are a pretty friendly and generous group. If you want to try out an instrument in a class where loaners aren't available, ask around at the festival to see if you can borrow someone's instrument.