Concerts
Click here for printable Concert Flyer.


In conjunction with the annual New Mexico Dulcimer Festival, we are proud to present two concerts open to the public. Two delightful evenings featuring both familiar and unique folk instruments.
Traditional American, Celtic, Jazz, Pop, Rock and Roll, World

November 3, 7:00pm

and

November 4, 7:00pm

Admission:
$15 each concert

(Cash or CC at the door,
children 12 and under free)

Albuquerque Academy
6400 Wyoming Blvd, NE
Albuquerque, NM
(Use south entrance
at Moon and Academy)


Registered festival participants get in free. See Instructors for bios.

Aubrey Atwater & Elwood Donnelly

(Warren, RI)

Mountain Dulcimer, Banjo, guitar, Tin Whistle, Mandolin, World Class Clogging & Tap




No Strings Attaced

Wes Chappell (Wilmington, NC)

Randy Marchany (Blacksburg, VA)

Hammered Dulcimer, Piano, Guitar, Fiddle, Mandolin



Joe Collins

(Shelby, NC)

Mountain Dulcimer


Tina Gugeler
(Erie, CO)
Hammered Dulcimer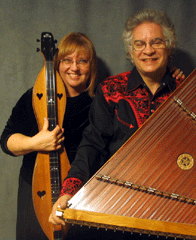 Scott and Irma Reeder
(Albuquerque, NM)
Hammered and Mountain Dulcimers,Celtic Harp, Guitars, Bowed Psaltery, Whistles and more
Gretchen Van Houten
(Bosque, NM)
Fiddle and Guitar