Instructors
We bring in nationally/internationally-renowned instructors to help you get the most out of your playing. We're also using talented New Mexico teachers to expand your opportunities.
2018 Headliners
Larry Conger (Paris, TN)
A graduate of The University of Mississippi (Ole Miss), Larry Conger (Mountain Dulcimer workshops) has been involved with music as a vocation for over 35 years. Besides being a popular performer and instructor at various dulcimer festivals around the country, Larry is involved with long distance learning via online lessons. Larry has also served as a Church Music Director for several Baptist churches. He has been involved with the Tennessee Arts Commission's Arts in Education program and the Kentucky Arts Council's Teacher Incentive Program, presenting dulcimer programs in the public schools.

In 1995, Larry won the Southern Regional Mountain Dulcimer Championship at the Ozark Folk Center in Mountain View, Arkansas. In 1996, he teamed with Jim Curley of Kansas City to win the Southern Regional Dulcimer Ensemble Championship at the Folk Center. In 1998, Larry won the prestigious National Mountain Dulcimer Championship at the Walnut Valley Festival in Winfield, Kansas. Larry has several dulcimer books and recordings to his credit, including contributions to Great Players of the Mountain Dulcimer, National Champions and Masters of the Mountain Dulcimer II, compilation CDs featuring many of today's top dulcimer artists. He has also been featured on three Japanese compilation CDs of international acoustic music. The Acoustic Breath CD series has enjoyed widespread acclaim in Japan.

Larry and his wife, Elaine, are directors of Dulcimer U at Western Carolina University in Cullowhee, North Carolina, hosting numerous dulcimer related workshops throughout the year. They are also directors of their own Duet Dulcimer Retreat at Lake Barkley State Resort Park near Cadiz, Kentucky and the September On The Mississippi Dulcimer Retreat in Natchez, Mississippi.


Jess Dickinson (Madison, MS)
Jess Dickinson (Hammered Dulcimer workshops) began performing on hammered dulcimer in Mountain View, Arkansas, in 1990 at the Ozark Folk Center, where he played on the annual Christmas show for seven years. He is the 2013 Southern Regional Hammered Dulcimer Champion, and he and Jeff Hames won first place in the 2013 Southern Regional ensemble competition.

Jess is the founder of the Hammered Dulcimer Academy, which holds classes each year in Asheville, NC, Daytona Beach, FL, and Mountain View, AR. He has instructed hammered dulcimer and performed at numerous festivals and workshops, and he is the organizer of the annual Deep South Dulcimer Competition, held each year during the Southern Strings Dulcimer Festival in Hattiesburg, MS. He has published two hammered dulcimer instruction books. His first book, The Essential Hammered Dulcimer Instruction Manuel, is in its 7th printing, and has sold over 3,000 copies in the U.S. and in 15 countries. His website, DickinsonDulcimer.com, features Jess's free hammered dulcimer videos (also available free on YouTube), and many other free learning aids for hammered dulcimer players. His bluegrass band, the Bluegrass Appeal, recorded a popular CD, From Dublin to the Delta with guest performer Stephen Seifert.

Former Presiding Justice of the MS Supreme Court, Jess took a year off the hammered dulcimer trail to accept an appointment by MS Governor Phil Bryant as MS's Commissioner of Child Protection Services. The 2018 New Mexico Dulcimer Festival will be his first venue since that break.


Butch Ross (Signal Mountain, TN)
Butch Ross (Mountain Dulcimer workshops) Typically, the dulcimer is used for playing simple tunes and accompanying the voice, most people can learn a song or two within a few minutes of first encountering the instrument. Which is probably why the one phrase you'll hear a lot at a Butch Ross concert is "I didn't know you could do THAT on a mountain dulcimer!" Ross has taken a simple folk instrument and energized it with technical wizardry, inventive arrangements and a healthy dose of rock-n-roll attitude. It's this groundbreaking and iconoclastic approach that caused ukulele-virtuoso Jake Shimabukuro to comment, "Now I know what a dulcimer is supposed to sound like."

Ross has been on the road most of the last year in support of his most recent CD A Long Way From Shady Grove, an all-instrumental record that combines his bluegrass-tinged originals with re-imagined traditional tunes and a blistering version of the Beatles' Eleanor Rigby. This leg finds him touring the mid-west and east coast, playing many cities for the first time.

Ross had been a touring singer/songwriter when he was given a mountain dulcimer as a birthday present. At first, the instrument was a curiosity but before too long it became his instrument of choice. A chance meeting with musician, author and producer Robert Force (himself a dulcimer iconoclast) led to the 2005 release The Moonshiner's Atlas and a complete change of focus.

Since then Ross has become an in-demand performer at folk and dulcimer festivals through the US and Europe. He's performed at such festivals as the Central Ohio Folk Festival, Falcon Ridge Folk Festival, and the Lancaster (UK) Music Fest. This August, he will be debuting at the prestigious Philadelphia Folk Festival.

Butch Ross plans to finish out the year touring both here and in the UK and developing material for a new CD to be released next spring.


Mark Alan Wade (Akron, OH)
1998 National Hammered Dulcimer Champion, Mark Alan Wade (Hammered Dulcimer workshops), has performed and taught hammered dulcimer for over 25 years. A multi-instrumentalist, the trumpet is actually his primary instrument. As a student, his trumpet playing was his gateway into music schools and it allowed him to expand his musical limits throughout academia. This culminated in his Doctorate of Musical Arts in Trumpet Performance degree from The Ohio State University. Although it is an unusual pairing, his formal trumpet study has shaped him into the dulcimer player he is today.

Dr. Wade is an invited lecturer and performer for the Cimbalom World Association, the international professional organization for dulcimer players and professors. In 2013, he was a featured performer at their World Congress in Taipei, Taiwan. He has performed in Canada, Austria, Slovakia and Hungary. In the U.S., he has performed for audiences of notables including Presidents George Bush Sr., President Bill Clinton, Ross Perot, and the former U.S. Secretary of Defense, William S. Cohen.

As a trumpeter, Wade has also performed with the Beach Boys, the Lancaster Festival Orchestra, the Buckinghams, Columbus Symphony Orchestra, West Virginia Symphony Orchestra, Lima Symphony Orchestra, Central Ohio Symphony Orchestra, Springfield Symphony Orchestra, and the Newark-Granville Symphony Orchestra.

Mark and his wife, Cristina, recently moved to Akron, OH with their two sons. He has published six instructional books for hammered dulcimer, and seven CD albums.
Additional Instructors or Performers
Tina Gugeler (Erie, CO)
Tina Gugeler (Hammered Dulcimer workshops) Once again, we share the delight of having Tina help us out in 2018.

Tina has been performing and teaching the hammered dulcimer for over 25 years. Her musical roots started with Celtic and American fiddle tunes. Her music now includes mixing pop tunes with traditional tunes for a delightful and unexpected flavor. Over the years, Tina has won many local and regional competitions. At the U.S. National Hammered Dulcimer Championships held in Winfield, KS, she has placed in the top 5 nine times, took 3rd place three times, 2nd place three times, and 1st place in both 2000 and 2015. Tina also plays ukulele, bass uke, bodhran, and leaves!

As a Registered Nurse and artist with a son and pilot husband while living in Ketchikan, Alaska, she first heard a hammered dulcimer in 1986. The instrument quickly became her passion and soon it seemed everyone on the island had heard Tina and her band, BearFoot, playing a variety of Celtic and American fiddle tunes. She played on the docks for cruise ship tourists, for weddings and dances, and at the Alaska Folk Festival in Juneau. After moving to the Denver area in 1990, Tina became a fulltime musician. She plays solo, in small combos with fiddle, guitar or piano, and in several Denver area dance bands, to include Balance and Swing and Grandview Victorian Orchestra (including performances for several Victorian dance cruises). She appears on recordings by Grandview Victorian Orchestra, Contrafusion, and High Strung.

Along with her busy performance schedule, Tina teaches dulcimer and bodhran privately. Tina has also taught and performed at many festivals including the Southwest Dulcimer Festival (AZ), the California Traditional Music Society Summer Solstice Festival, the Colorado Dulcimer Festival, Rocky Mountain Fiddle Camp (CO), Jubilee of Acoustic Music (KS), Kentucky Music Winter Weekend (KY), ODPC Funfest (MI), the New Mexico Dulcimer Festival, the Albuquerque Folk Festival (NM), the Buckeye Dulcimer Festival (OH), the Sawdust Festival (OK), the Palestine Old Time Music and Dulcimer Festival (TX), Winterfest (TX), and Irish Week at Augusta (WV). She is also a polymer clay artist, teaching classes and making jewelry with polymer clay and metalsmithing skills.
David Ellison (Lovington, NM)
David Ellison (Mountain Dulcimer workshops) David Ellison's introduction to the mountain dulcimer came in 2000 when he read about it in Foxfire 3, a book about old time ways of living. A southeast Texas native, he found a dulcimer shop close to his home and soon found a sound that he had been searching for. He immersed himself in the many festivals that were within driving distance of his home. Upon the suggestion of friends, he began performing at open mics, and began competing in state level competitions in both Texas and Louisiana. In 2006 and 2007, he won first place at Louisiana's Rebel State Park. He was also named the Texas Mountain Dulcimer Champion, at the Lone Star State Dulcimer Festival, also in 2007.

David enjoys showing others how to draw music out of the mountain dulcimer, teaching one-on-one and in group settings. His friendly, laid-back personality is reflected in his teaching style.
Donese Mayfield (Albuquerque, NM)
Donese Mayfield (Celtic harp workshop) has been a professional musician (organ, piano, and harp) in Texas and New Mexico for many years. Though classically trained on piano and organ, she discovered the Celtic harp at the age of 42 and believes "you're never too old for music!" She has been an active church musician playing in Presbyterian, Lutheran, Episcopal, Methodist, Unitarian, and Catholic churches, and Jewish Synagogues; and she is one of the staff musicians at the University of New Mexico Alumni Chapel, which is host to several hundred weddings each year.

Donese performs solo on the Celtic harp and pedal harp. She also plays public events and private parties as a soloist or in ensemble. She has released two CDs with the ensemble Sweet Breeze; has recorded as a studio musician with several groups; and has conducted folk harp workshops across the Southwest. She also plays in the ensemble Two Roses with flutist Bonnie Schmader. As a "coach" for adult harp students, she gives private and group lessons and has written a two-volume teaching curriculum for adult beginners of folk harp, which is available through the Folk Harp Catalog and Apple Mountain Music.

Recently, her life's path has taken her into therapeutic music work where she works with end-of-life hospice patients. She completed a certification program for this work through The Music for Healing and Transition Program and is a Certified Music Practitioner. This is some of the most powerful and important music work which she has been privileged to do and her respect for the amazing healing properties of the harp continues to grow.
Irma Reeder (Albuquerque, NM)
Irma Reeder (Mountain Dulcimer workshops) was born in Texas, but grew up in Germany. Her family provided a strong early music influence, coming from generations of Ozark mountain musicians, including several fiddle makers. Singing melody and harmony with her family long before grade school, her mother taught her to play an open-G guitar using a pencil as a noter before her hand was big enough to reach around a guitar neck. She taught her first guitar student when she was 10, and has been teaching steadily since age 15. Irma started directing vocal and instrumental ensembles as a teen. She studied vocal performance for over 3 decades, and also studied conducting. Irma has been soprano soloist with symphony and theater groups, the Michael Iatauro Jazz Quartet, and performed with chorales and light opera and opera companies. She has been a church music administrator and choir director since 1982. Irma leads the Wing & a Prayer old-time/cowboy/country Gospel band, and performs with her husband, Scott, DBA Music for All Seasons.

Irma started playing mountain dulcimer in 2005. She is the 2009 Colorado State Mountain Dulcimer Champion, the 2011 Texas State Champion, and the 2016 Southern Regional Champion (Ozark Folk Center, Arkansas). Irma is a manager/regular workshop teacher and past board member of the Albuquerque Folk Festival, and co-founded the New Mexico Dulcimer Festival where she is Association President, Festival Director, and an instructor. She has also taught at the Red River (NM), Colorado State (CO), and Lone Star State (TX) Dulcimer Festivals and the Winter Festival of Acoustic Music (TX). In Albuquerque, Irma teaches voice, guitar, Celtic harp and mountain dulcimer privately, and harp and mountain dulcimer through University of New Mexico Continuing Education and Apple Mountain Music store. She loves teaching, and welcomes the opportunity to work with students of all ages and backgrounds to help them attain their musical goals. Irma plays mountain dulcimer, guitar, piano, keyboard, banjo, mandolin, bowed psaltery, bodhrán (Irish frame drum), tongue drum, marimbula (a giant thumb piano bass), fiddle, and ukulele.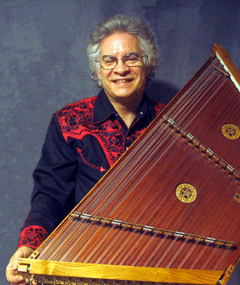 Scott Reeder (Albuquerque, NM)
Scott Reeder (Bowed Psaltery and Hammered Dulcimer workshops) is a native of Albuquerque. With a live radio orchestra conductor, Texas A&M music professor, St. Louis opera star, New York city Episcopal cathedral organist, career night club singer, classical pianist, and professional Missouri string band musician in the family tree, it was no surprise Scott began playing music at age 4, performing on organ throughout his youth. He started exploring jazz in his early teens, performing on piano and guitar. Scott was singing before grade school, and studied voice for 15 years as an adult. He has performed in numerous bands, ensembles and chorales, and as tenor soloist in churches, weddings, and the Celebration! Chorale. Scott has led church music with Irma since the early 1980's, and performs with her under the Music for All Seasons name and in the Wing & a Prayer band. With Irma, they won the 2016 Southern Regional Ensemble Championship (Ozark Folk Center, Arkansas). Scott has taught guitar, electric bass, hammered dulcimer, bowed psaltery, and tin whistle, as well as instrument amplification and sound system design and operation. He is a past board member for the Albuquerque Folk Festival, board member/co-founder of the New Mexico Dulcimer Festival, and manages/teaches at these and other festivals. He has scheduled musicians for various events in Albuquerque including the music stage at Weem's International Artfest. Scott plays hammered dulcimer, guitar, mandolin, octave mandolin, bowed psaltery, tin whistle, low whistle, recorder, piano, synth, melodica - "half" an accordion, concertina - Victorian-age squeezebox, and marimbula.
Gretchen Van Houten (Bosque, NM)
Gretchen Van Houten will be performing with us during concerts again this year. Gretchen started playing harmonica and guitar when she was 4. Between the ages of 8 and 17, she had 9 years of classical piano training and 5 years of classical violin. Starting at age 14, Gretchen competed on fiddle for 15 years. She won her first New Mexico State Championship when she was 17, captured that title 6 more times, became the National Fiddle Champion at the Walnut Valley Festival (Winfield, Kansas) in 1992, and later won the prestigious Western Music Association's professional fiddle contest at Old Tucson. She is a studio musician, and has radio, TV, movie soundtrack and on-film credits. Gretchen teaches fiddle, flatpick guitar, banjo, mandolin, bass, and piano, with an emphasis on improvisation in Western Swing, Cajun, Irish, Country, Bluegrass, and Texas styles.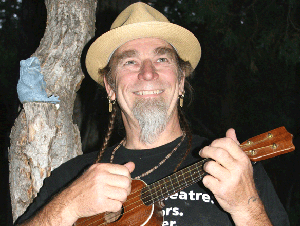 Michael VeSeart (Albuquerque, NM)
Michael VeSeart (Ukulele workshop) Michael is both a ukulele instructor and the Kahuna Grande of the High Desert Sand Fleas Ukulele Club in Albuquerque, NM. For those of you that don't know, ukulele means "jumping flea." Michael teaches drama tech at Bosque School in Albuquerque, and heads the Bosque Tech Club which lends production support to all Bosque School performances. He hails from southern California and has lived in New Mexico for years. His talent for music and art naturally led him into theatre, beginning as a set designer, property master and performer. He has worked in nearly every aspect of the theatre arts and for many different performing companies including dance, theatre and opera. Michael was technical manager of the historic Kimo Theatre for the City of Albuquerque for fourteen years, then transferred to the Albuquerque Biological Park where he became a technical production specialist, managing the stages at the Rio Grande Zoo and the Rio Grande Botanical Garden. He was the principle designer for the River of Lights holiday light show and coordinated the creative efforts for the haunted house as part of Zoo Boo, the zoo's annual Halloween festival. Outside of teaching, Michael is an accomplished artist with numerous shows to this credit. He plays many musical instruments and is an avid antique motorcycle enthusiast.
We'll be adding additional instructors as planning continues.