Instructors
We bring in nationally/internationally-renowned instructors to help you get the most out of your playing. We're also using talented New Mexico teachers to expand your opportunities.
2017 Headliners
Aubrey Atwater and Elwood Donnelly
(Warren, RI)
Atwater-Donnelly Aubrey Atwater (Mountain Dulcimer and Clogging workshops) and Elwood Donnelly (Mountain Dulcimer, Harmonica and Percussion workshops) are delightful, energetic performers and teachers, presenting enthralling programs of traditional American and Celtic folk music and dance. We hired Aubrey (solo) for our very first festival in 2010, and are delighted to bring her back this year with husband Elwood. Aubrey and Elwood are in great demand on the American folk music circuit and have performed and taught in over thirty-five states as well as Canada, England and Ireland. They blend unusual harmonies and play and teach mountain dulcimer, old-time banjo, guitar, tin whistle, mandolin, harmonica, bodhran, bones, spoons, limberjack, and other surprises, as well as clogging, French Canadian foot percussion, tap, and contra dancing. Their exquisite joy and musicality blend with their scholarly sides, showing a deep understanding and appreciation of folk music and its key players including The Original Carter Family and Jean Ritchie (1922-2015). Jean was a long-time friend and mentor, remaining an immeasurable influence in their musical and personal lives. In their 30-year career together, Aubrey and Elwood have produced seven books, a film, and thirteen recordings which receive international airplay.

Award-winning musician, vocalist, writer, and dancer, Aubrey is particularly well-known as a mountain dulcimer player and teacher throughout the US and beyond. She offers a wide variety of unique workshops, uses over twenty-five mountain dulcimer tunings, and plays in both deeply traditional as well as modern and innovative styles.

Award-winning multi-instrumentalist, vocalist, writer, contra dance caller, tap-dancer and workshop leader, Elwood is widely popular for workshops in mountain dulcimer, harmonica, DADGAD tuning on guitar, and small percussion. On occasion, he delights audiences with his tap-dancing prowess. He teaches a wide variety of dulcimer workshops, including the ancient style of playing with a noter, chording, strumming, finger-picking patterns, as well as singing and playing. His styles are both deeply traditional as well as modern and original.


Randy Marchany (Blacksburg, VA)
Wes Chappell (Wilmington, NC)
No Strings Attached® We've been able to contract the two hammered-dulcimer-playing members of the award-winning quartet, No Strings Attached, for our 2017 festival. They have taught hammered dulcimer at music camps and festivals throughout the country for decades, and frequently perform as a duet. Randy and Wes met in college in the early 1970s, and discovered a common interest in the clogging and folk traditions that were emerging then. They are both founding members of No Strings Attached, playing together since 1980.

Wes Chappell (Hammered Dulcimer and penny whistle workshops) first heard a hammered dulcimer in 1976. Already a veteran of rock bands, jug bands, bluegrass and country-rock bands on other instruments, he was immediately taken with the dulcimer, soon purchasing his own. Other instruments he plays include guitar, fiddle, mandolin, harmonica, keys, and theremin. While he plays a variety of styles, his background is rock and roll.

Randy Marchany (Hammered Dulcimer workshops) started playing hammer dulcimer in 1978 after hearing Wes play. He came to the instrument from a classical background on piano.

Other current band members that we're not able to bring out for 2017 are Jim Crawford (guitar) and Rusty May (acoustic bass).

The band's music has been described as "eclectic, jazz on acoustic instruments and world beat." No Strings Attached is superficially a traditional string band focusing on instrumental arrangements, but they consistently stretch the boundaries of string music beyond traditional concepts. The Washington Post accurately described them as "one of the more adventurous string ensembles today." While their recordings feature traditional acoustic music, they also incorporate material by Dave Brubeck, Thelonious Monk, Sonny Rollins, the Chieftains, and Bill Spence, as well as their own originals. The eclectic brand of music they play and their exciting stage personae (think Cirque du Soleil, and you're close) has allowed them to open for such artists as Mary Wilson and the Supremes, Bela Fleck and the Flecktones, Nickel Creek, Doc Watson, Stephen Bennett, Tommy Emmanuel, the Dixie Chicks, Turtle Island String Quartet, John Hartford, and John McCutcheon. They have played in European venues such as Cardiff Harbour Festival, (Wales), the Pontardarwe Festival (Wales), the Cork Dulcimer Festival (Ireland), Folk Club Zuriche (Switzerland) and in U.S. venues ranging from the Kennedy Center for the Performing Arts and CBS TV's Morning News program to major festivals such as the Walnut Valley Festival (Kansas) and the Pacific Rim International Music Festival in Los Angeles, California. They wrote and performed the original theme song for the PRI radio show World Cafe. On stage, they typically dance the tango with their instruments, parody old rock and roll bands, clog while playing old-time tunes, and sometimes use the slinky (yes, the old toy) as a percussion instrument. Some of the awards the band has received for its albums include nominations for the National Association of Independent Record Distributors (NAIRD) INDIE awards (aka Folk Music Grammy) for "Best Album - String Music Category" in 1985, 1986, 1987, 1988, 1990 and 1992. Their 5th album, "Take 5" won the Indie award for Best Album in 1988.
Joe Collins (Shelby, NC)
Joe Collins (Mountain Dulcimer workshops) fell in love with the mountain dulcimer back in 1978. At the time he was doing occasional coffeehouses as a college student in eastern North Carolina, and a good friend thought that he might be interested in tackling another instrument besides the guitar. He took her little instrument home, and she did not get it back for three years! Today, he plays a lot less guitar and lot more dulcimer than in those early days. After competing in a number of competitions and winning several regional competitions over a ten-year period, he won the National Mountain Dulcimer Championship in 2007 in Winfield, KS. Over the past twenty years, he has had the opportunity to teach and play in festivals from California to the east coast, from Florida to Vermont, and a lot of places in between. Joe has recorded four CDs and published eleven mountain dulcimer books (most with companion listening CDs).

A folk musician and mountain dulcimer player since the late 70s, Joe combines mountain dulcimer wizardry with good, solid vocals. He is a songwriter and vocalist, inspired by artists like Simon & Garfunkle, Gordon Lightfoot, Bob Dylan, and Kris Kristofferson. But as he grows older and pudgier, he realizes that perhaps the most profound influence on his musical bent was the old Burle Ives records he listened to over and over again as a kid. His performances are sprinkled with a lot of humor and some excellent mountain dulcimer playing - sure to bring a smile to audiences of all ages.

Joe graduated from East Carolina University with Bachelor and Masters degrees in English, from Southeastern Baptist Theological Seminary with a Master of Divinity with Religious Education, and from NC State University with a Doctorate in Adult Education. He has worked in Religious Education for most of his professional career and is an associate professor of religion at Gardner-Webb University in Boiling Springs, NC. And, of course, he continues to write songs and accept as many opportunities to teach and perform as he can!
Additional Instructors or Performers
Tina Gugeler (Erie, CO)
Tina Gugeler (Hammered Dulcimer workshops) has helped us at several past festivals, and we're so pleased to bring her back for 2017.

Tina has been performing and teaching the hammered dulcimer for over 25 years. Her musical roots started with Celtic and American fiddle tunes. Her music now includes mixing pop tunes with traditional tunes for a delightful and unexpected flavor. Over the years, Tina has won many local and regional competitions. At the U.S. National Hammered Dulcimer Championships held in Winfield, KS, she has placed in the top 5 nine times, took 3rd place three times, 2nd place three times, and 1st place in both 2000 and 2015. Tina also plays ukulele, bass uke, bodhran, and leaves!

As a Registered Nurse and artist with a son and pilot husband while living in Ketchikan, Alaska, she first heard a hammered dulcimer in 1986. The instrument quickly became her passion and soon it seemed everyone on the island had heard Tina and her band, BearFoot, playing a variety of Celtic and American fiddle tunes. She played on the docks for cruise ship tourists, for weddings and dances, and at the Alaska Folk Festival in Juneau. After moving to the Denver area in 1990, Tina became a fulltime musician. She plays solo, in small combos with fiddle, guitar or piano, and in several Denver area dance bands, to include Balance and Swing and Grandview Victorian Orchestra (including performances for several Victorian dance cruises). She appears on recordings by Grandview Victorian Orchestra, Contrafusion, and High Strung.

Along with her busy performance schedule, Tina teaches dulcimer and bodhran privately. Tina has also taught and performed at many festivals including the Southwest Dulcimer Festival (AZ), the California Traditional Music Society Summer Solstice Festival, the Colorado Dulcimer Festival, Rocky Mountain Fiddle Camp (CO), Jubilee of Acoustic Music (KS), Kentucky Music Winter Weekend (KY), ODPC Funfest (MI), the New Mexico Dulcimer Festival, the Albuquerque Folk Festival (NM), the Buckeye Dulcimer Festival (OH), the Sawdust Festival (OK), the Palestine Old Time Music and Dulcimer Festival (TX), Winterfest (TX), and Irish Week at Augusta (WV). She is also a polymer clay artist, teaching classes and making jewelry with polymer clay and metalsmithing skills.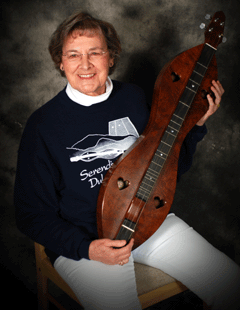 Malacha Hall (Cañon City, CO)
Malacha Hall (Mountain Dulcimer workshops) got her first dulcimer in the 70's when someone just gave it to her. It was not a great one, so she played it a little but continued with the guitar and mandolin. Later, she bought a better dulcimer and met Neil Hellman at a festival in Manitou Springs, CO. He showed Malacha DAD tuning and a better way to play. She was hooked. She started going to workshops in KY and NC to find advanced classes and has been playing ever since.

Malacha has taught workshops in Topeka, KS, the LaVeta Celtic Festival, CO, and the Colorado Dulcimer Festival. She has done after school programs and Senior Center programs. She teaches a workshop every year at the Senior Mini-College during the spring break of the Pueblo Community College. Malacha, along with three friends, started the Serendipity Dulcimer Club in Colorado Springs, Westcliffe and Cañon City, CO.
Donese Mayfield (Albuquerque, NM)
Donese Mayfield (Celtic harp workshop) has been a professional musician (organ, piano, and harp) in Texas and New Mexico for many years. Though classically trained on piano and organ, she discovered the Celtic harp at the age of 42 and believes "you're never too old for music!" She has been an active church musician playing in Presbyterian, Lutheran, Episcopal, Methodist, Unitarian, and Catholic churches, and Jewish Synagogues; and she is one of the staff musicians at the University of New Mexico Alumni Chapel, which is host to several hundred weddings each year.

Donese performs solo on the Celtic harp and pedal harp. She also plays public events and private parties as a soloist or in ensemble. She has released two CDs with the ensemble Sweet Breeze; has recorded as a studio musician with several groups; and has conducted folk harp workshops across the Southwest. She also plays in the ensemble Two Roses with flutist Bonnie Schmader. As a "coach" for adult harp students, she gives private and group lessons and has written a two-volume teaching curriculum for adult beginners of folk harp, which is available through the Folk Harp Catalog and Apple Mountain Music.

Recently, her life's path has taken her into therapeutic music work where she works with end-of-life hospice patients. She completed a certification program for this work through The Music for Healing and Transition Program and is a Certified Music Practitioner. This is some of the most powerful and important music work which she has been privileged to do and her respect for the amazing healing properties of the harp continues to grow.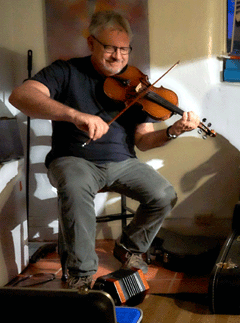 Harlow Pinson (Albuquerque, NM)
Harlow Pinson (Folk Music workshop) teaches Celtic music in Albuquerque, NM. He is a Suzuki-trained multi-instrumentalist who plays a variety of musical instruments and styles (violin, viola, flute, uilleann bagpipes, concertina, banjo, and whistle). He leads the weekly Albuquerque Irish Music Session, is a professional educator, and teaches several musical instruments. Currently he is learning a new instrument, the Irish Flute, and has been collecting his thoughts on acquiring new musical skills and overcoming the musical barriers many adult learners face. He attended Berklee College of Music in Boston, and enjoys participating in local and regional Irish and Scottish music sessions and helping others enjoy playing the music.
Irma Reeder (Albuquerque, NM)
Irma Reeder (Mountain Dulcimer workshops) was born in Texas, but grew up in Germany. Her family provided a strong early music influence, coming from generations of Ozark mountain musicians, including several fiddle makers. Singing melody and harmony with her family long before grade school, her mother taught her to play an open-G guitar using a pencil as a noter before her hand was big enough to reach around a guitar neck. She taught her first guitar student when she was 10, and has been teaching steadily since age 15. Irma started directing vocal and instrumental ensembles as a teen. She studied vocal performance for over 3 decades, and also studied conducting. Irma has been soprano soloist with symphony and theater groups, the Michael Iatauro Jazz Quartet, and performed with chorales and light opera and opera companies. She has been a church music administrator and choir director since 1982, currently holding that position at Faith Bible Church in Albuquerque. Irma leads the Wing & a Prayer old-time/cowboy/country Gospel band, and performs with her husband, Scott, DBA Music for All Seasons.

Irma started playing mountain dulcimer in 2005. She is the 2009 Colorado State Mountain Dulcimer Champion, the 2011 Texas State Champion, and the 2016 Southern Regional Champion (Ozark Folk Center, Arkansas). Irma is a manager/regular workshop teacher and past board member of the Albuquerque Folk Festival, and co-founded the New Mexico Dulcimer Festival where she is Association President, Festival Director, and an instructor. She has also taught at the Red River (NM), Colorado State (CO), and Lone Star State (TX) Dulcimer Festivals and the Winter Festival of Acoustic Music (TX). In Albuquerque, Irma teaches voice, guitar, Celtic harp and mountain dulcimer privately, and harp and mountain dulcimer through University of New Mexico Continuing Education and Apple Mountain Music store. She loves teaching, and welcomes the opportunity to work with students of all ages and backgrounds to help them attain their musical goals. Irma plays mountain dulcimer, guitar, piano, keyboard, banjo, mandolin, bowed psaltery, bodhrán (Irish frame drum), tongue drum, marimbula (a giant thumb piano bass), fiddle, and ukulele.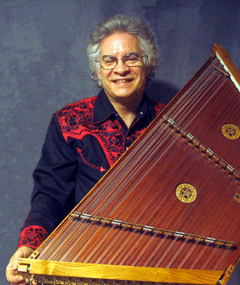 Scott Reeder (Albuquerque, NM)
Scott Reeder (Bowed Psaltery and Hammered Dulcimer workshops) is a native of Albuquerque. With a live radio orchestra conductor, Texas A&M music professor, St. Louis opera star, New York city Episcopal cathedral organist, career night club singer, classical pianist, and professional Missouri string band musician in the family tree, it was no surprise Scott began playing music at age 4, performing on organ throughout his youth. He started exploring jazz in his early teens, performing on piano and guitar. Scott was singing before grade school, and studied voice for 15 years as an adult. He has performed in numerous bands, ensembles and chorales, and as tenor soloist in churches, weddings, and the Celebration! Chorale. Scott has led church music with Irma since the early 1980's, and performs with her under the Music for All Seasons name and in the Wing & a Prayer band. With Irma, they won the 2016 Southern Regional Ensemble Championship (Ozark Folk Center, Arkansas). Scott has taught guitar, electric bass, hammered dulcimer, bowed psaltery, and tin whistle, as well as instrument amplification and sound system design and operation. He is a past board member for the Albuquerque Folk Festival, board member/co-founder of the New Mexico Dulcimer Festival, and manages/teaches at these and other festivals. He has scheduled musicians for various events in Albuquerque including the music stage at Weem's International Artfest. Scott plays hammered dulcimer, guitar, mandolin, octave mandolin, bowed psaltery, tin whistle, low whistle, recorder, piano, synth, melodica - "half" an accordion, concertina - Victorian-age squeezebox, and marimbula.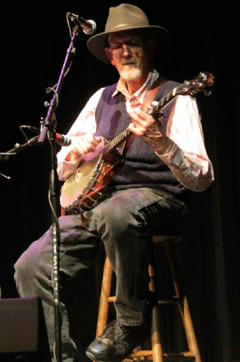 Wayne Shrubsall (Albuquerque, NM)
Wayne Shrubsall (Banjo workshop) was born in Northern Indiana in 1943. He began studying and playing 4- and 5-string banjo when he was 18. His first style of playing was the three-finger approach used in bluegrass bands. Learning clawhammer was next. By 1974, Wayne had learned and played clawhammer (or drop-thumb frailing) in various bands. Wayne began publishing articles and accompanying tablatures first in the short-lived Muleskinner News, and then in Banjo Newsletter in 1975, to which he still contributes reviews and tablatures. In 1985, Wayne completed a doctoral dissertation on the banjo for the University of New Mexico. While working on the project, he learned various other styles, such as 19th-Century minstrel and "classical" (or parlor) banjo techniques, Appalachian clawhammer, Southern 2-finger stylings, and even Dixieland stylings (for 4-string banjo). Wayne performed with many local bands, primarily the Big River Boys, the Adobe Brothers, Elliott's Ramblers, the Riverside Jass Trio, and Jazz ala Carte. He has also played in performances with Byron Berline, Alan Munde, Peter Feldmann, Dan Crary, and Bill Monroe. In the studio, Wayne has appeared on over 20 albums, as a bluegrass, old-timey, and plectrum (4-string) banjoist. From 2001 to 2007, Wayne was an instructor at Alan Munde's Camp Bluegrass summer sessions focusing on tutoring students in three-finger and clawhammer stylings. Retired now, Wayne was a college humanities and English instructor for over 35 years. This was something he did, he says, primarily to support his banjo habit.

Gretchen Van Houten (Bosque, NM)
Gretchen Van Houten (Guitar workshop) will be performing with us during concerts again this year. Gretchen started playing harmonica and guitar when she was 4. Between the ages of 8 and 17, she had 9 years of classical piano training and 5 years of classical violin. Starting at age 14, Gretchen competed on fiddle for 15 years. She won her first New Mexico State Championship when she was 17, captured that title 6 more times, became the National Fiddle Champion at the Walnut Valley Festival (Winfield, Kansas) in 1992, and later won the prestigious Western Music Association's professional fiddle contest at Old Tucson. She is a studio musician, and has radio, TV, movie soundtrack and on-film credits. Gretchen teaches fiddle, flatpick guitar, banjo, mandolin, bass, and piano, with an emphasis on improvisation in Western Swing, Cajun, Irish, Country, Bluegrass, and Texas styles.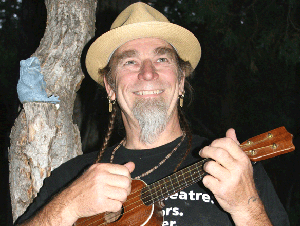 Michael VeSeart (Albuquerque, NM)
Michael VeSeart (Ukulele workshop) Michael is both a ukulele instructor and the Kahuna Grande of the High Desert Sand Fleas Ukulele Club in Albuquerque, NM. For those of you that don't know, ukulele means "jumping flea." Michael teaches drama tech at Bosque School in Albuquerque, and heads the Bosque Tech Club which lends production support to all Bosque School performances. He hails from southern California and has lived in New Mexico for years. His talent for music and art naturally led him into theatre, beginning as a set designer, property master and performer. He has worked in nearly every aspect of the theatre arts and for many different performing companies including dance, theatre and opera. Michael was technical manager of the historic Kimo Theatre for the City of Albuquerque for fourteen years, then transferred to the Albuquerque Biological Park where he became a technical production specialist, managing the stages at the Rio Grande Zoo and the Rio Grande Botanical Garden. He was the principle designer for the River of Lights holiday light show and coordinated the creative efforts for the haunted house as part of Zoo Boo, the zoo's annual Halloween festival. Outside of teaching, Michael is an accomplished artist with numerous shows to this credit. He plays many musical instruments and is an avid antique motorcycle enthusiast.
Cheap Shots (Albuquerque, NM)
---
Representatives from the contra dance band, Cheap Shots, will be helping with Aubrey and Elwood's Saturday afternoon's contra dance (for participants and their guests only). You can dance, play along with the band, or just sit and enjoy.

Band members include Pat Aruffo (fiddle), Peter Esherick (hammered dulcimer, mandolin and banjo), John Brinduse (keyboard, guitar, and percussion), Bill Balassi (guitar and mandolin) and Erika Gerety (bass, mandolin, and vocals). Cheap Shots is an energetic acoustic band that draws upon an eclectic mix of Old Time, Celtic, Contra Dance, Folk, Country, Blues, Bluegrass, and Swing, intertwining instrumental and vocal music (including original songs). Cheap Shots won the Old Time Band Contest at the 2006 Santa Fe Bluegrass Festival.

For contra dances, the band plays a mix of New England and Southern style contra music, with occasional Swing or International sounds as well. Many of the band's members are also contra dancers who work to emulate contra bands whose musical styles (and feel) make dancing especially enjoyable.