Welcome
Recent updates: Last website update: October 15, 2017

- (Oct 15) On T-shirts/Archives page, replaced printer's proof of 2017 fest T-shirt with photo of actual shirt - they came out great!
- (Oct 11) A few workshop schedule changes (see four orange boxes that have changed). Scroll to the bottom of the Instructors page to see the band that will be helping us with Saturday's contra dance!
- (Sep 30) Added photo of finished fest quilt (wow, Debbie!) with on-line sales (see Fest Quilt page). Added Friday/Saturday lunch menu selections (see bottom of Registration page). Added illustration (printer's proof) of 2017 fest T-shirt (see Tshirts/Archives page).
- (Sep 13) Added dowloadable/printable festival maps
- (Sep 11) Filled in Host Hotel information on the Lodging page


Click here for a printable Festival Flyer and here for a printable color or printable grayscale Festival Handbill.


What's new for 2017? We're moving!

Wonderful new venue - Albuquerque Academy in Northeast Albuquerque (see Venue)

Mark your calendars for the new dates: November 3-4 (expect cool evenings and warm afternoons)
Professional theater for concerts
Larger workshop rooms set in a beautiful tree-lined campus
Meals: Box lunches in lovely cafeteria with a panoramic view of the Sandia Mountains. Attendees are on their own for dinners at any of the numerous nearby eateries (State regulations won't let us prepare meals at the school)
For 2017 only: Saturday afternoon Contra Dance led by Aubrey Atwater and Elwood Donnelly! Come and dance, play with the band, or just watch the fun!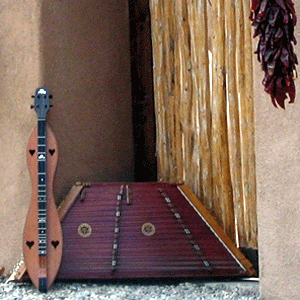 Mountain and Hammered Dulcimers
Did you know...While there are more than 80 dulcimer festivals from east Texas to the East Coast, the New Mexico Dulcimer Festival is one of about six dulcimer festivals in the entire Western United States. We started our festival in 2010 on a shoestring budget with major contributions from founding members to try to make inroads in this sparse landscape.

What is a dulcimer anyways? And why a dulcimer festival in Albuquerque, New Mexico? When we held our inaugural festival, we wondered if anyone would come. Response has exceeded all expectations! Not only have participants come from all over NM, but also AR, AZ, CA, CO, CT, FL, ID, IN, KS, MA, ME, NE, NH, NV, OK, OR, TX, UT, VT, WA, WI, WY and even Saskatchewan, Canada. Our "local" teaching staff have come from throughout NM and CO, and we've brought headliners in from AR, CA, CO, FL, MD, MN, MO, NC, RI, TN, TX, VA, WA and WV.

Our festival has grown from 7 mountain dulcimer workshops in 2010 to 46 workshops in 2017 focusing on mountain and hammered dulcimer, but other folk instruments as well. We offer a full complement of additional activities. We work hard to keep registration fees low which pay for about half of festival expenses - thank you! Registration revenue is critical to festival survival. We've been seeking grants since 2013 which have paid for about 17% of expenses. We are grateful for these funds as this little boost makes a huge difference in what we can offer, and we get to promote our sponsors' worthy efforts. Other minor sources of revenue and private donations have helped us grow the festival into what we hope is a Southwest treasure and a tangible resource in your musical growth and enjoyment.


Please consider making a tax-deductible donation to the non-profit 501(c)(3) New Mexico Dulcimer Association so we can stay healthy fiscally and keep bringing you great festivals. Click this button to be taken to a secure Paypal website. The Board of Directors (with zero paid positions) is grateful for your attendance, your volunteering, your support, and your warm friendship.


If you'd like to volunteer to help with this year's festival, please contact us.
See this year's beautiful festival quilt (fund raiser to help keep registration costs down).
What is the New Mexico Dulcimer Festival?
Dulcimer Instruction
Over 40 Workshops
Concerts
Jamming
More
Albuquerque
Click here for Albuquerque attractions.

Click here for our own entertaining history of Albuquerque.