Welcome
Recent updates: Last website update: January 7, 2019

- (Jan 7) Website has been updated for 2019 for most items. While we're completing hiring auxiliary teachers and coordinating workshops, we'll keep the 2018 schedule up as an example. We'll be posting the 2019 schedule, fest maps, and host hotel selection this summer (watch here and for a facebook announcement).


Click here for a printable Festival Flyer and here for a printable color or printable grayscale Festival Handbill.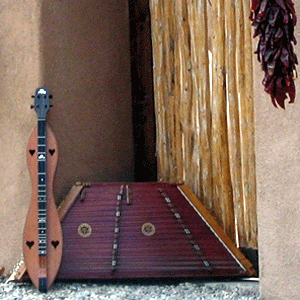 Mountain and Hammered Dulcimers
Did you know...While there are more than 80 dulcimer festivals from east Texas to the East Coast, the New Mexico Dulcimer Festival is one of about six dulcimer festivals in the entire Western United States. We started our festival in 2010 on a shoestring budget with major contributions from founding members to try to make inroads in this sparse landscape.

What is a dulcimer anyways? And why a dulcimer festival in Albuquerque, New Mexico? When we held our inaugural festival, we wondered if anyone would come. Response has exceeded all expectations! Not only have participants come from all over NM, but also AR, AZ, CA, CO, CT, FL, ID, IN, KS, MA, ME, MO, NE, NH, NV, OK, OR, TX, VT, WA, WI, WY and even Saskatchewan, Canada. Our "local" teaching staff have come from throughout NM and CO, and we've brought headliners in from AR, CA, CO, FL, MD, MN, MO, MS, NC, OH, RI, TN, TX, VA, WA and WV.

Our festival has grown from 7 mountain dulcimer workshops in 2010 to 49 workshops in 2018 focusing on mountain and hammered dulcimer, but other folk instruments as well. We offer a full complement of additional activities. We work hard to keep registration fees low which pay for about half of festival expenses - thank you! Registration revenue is critical to festival survival. We've been seeking grants since 2013 which have paid for about 17% of expenses. We are grateful for these funds as this little boost makes a huge difference in what we can offer, and we get to promote our sponsors' worthy efforts. Other minor sources of revenue and private donations have helped us grow the festival into what we hope is a Southwest treasure and a tangible resource in your musical growth and enjoyment.


Support the Festival
Please consider making a tax-deductible donation to the non-profit 501(c)(3) New Mexico Dulcimer Association so we can stay healthy fiscally and keep bringing you great festivals. Click this button to be taken to a secure Paypal website. The Board of Directors (with zero paid positions) is grateful for your attendance, your volunteering, your support, and your warm friendship.


If you regularly shop on Amazon, they have a great program to benefit a charitable non-profit organization of your choosing. It's simple and automatic, doesn't cost you anything, and provides the exact same low prices, selection, and convenient shopping experience. Instead of going to www.amazon.com, go to https://smile.amazon.com. On your first visit, select New Mexico Dulcimer Association and from thereon, the AmazonSmile Foundation will donate 0.5% of the purchase price of eligible products to our association. Amazon will remember this selection for future visits and continue providing donations as long as you go to smile.amazon.com rather than amazon.com.


If you do your grocery shopping at Smith's, you can have donations made to us for 0.5% of your total order every time you shop with your Smith's card. It doesn't cost you anything to choose us as a beneficiary of Smith's rewards and you will not lose fuel points. Signing up is free and easy: 1) Go to www.SmithsFoodandDrug.com/inspire, 2) Sign into your digital account or choose "Create an Account" (see buttons at right hand side of page) and fill in the information, 3) Link your Rewards Card to our non-profit organization using organization number SM851 or our name New Mexico Dulcimer Association and click "Search," select us then choose "Save."


If you'd like to volunteer to help with this year's festival, please contact us.
See this year's beautiful festival quilt (fund raiser to help keep registration costs down).
What is the New Mexico Dulcimer Festival?
Dulcimer Instruction
Over 40 Workshops
Concerts
Jamming
More
Albuquerque International Balloon Fiesta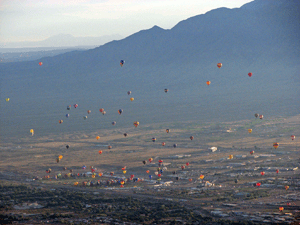 Hot air balloons over Albuquerque
We schedule the New Mexico Dulcimer Festival the weekend following the Balloon Fiesta so we might catch more of you RVers traveling through the southwest. We hope you'll stay in Albuquerque after the balloon spectacle to make some music with us.

With more than 700 beautiful hot air balloons participating, the Fiesta is the largest ballooning event on earth. Attracting more than 800,000 national and international visitors and more than 800 media representatives from across the globe, it is also the largest annual event in North America. It has been recognized as the world's most photographed event, and has been characterized as the most spectacular and colorful festival on the planet.

Click here for other Albuquerque attractions.

Click here for our own entertaining history of Albuquerque.